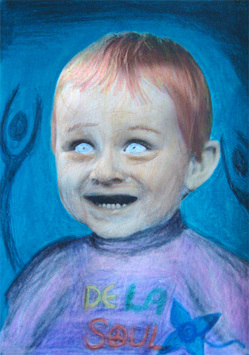 Heute Morgen kramte ich in meinen alten Sachen herum und fand dieses Foto.
Es ist mindestens 36 Jahre alt und wurde in einer Zeit manuell nachbearbeitet, als man den Begriff "Photoshop" noch eher mit einem Film-Entwicklungslabor als mit einem Grafikprogramm assozierte. So gegen Ende der 80er-Jahre also.
Ich weiss nicht, welcher Teufel mich damals geritten hatte, als ich dieses ursprünglich schwarzweisse Portrait derart "verschönerte".
Vermutlich hatte ich mir gerade den Film "The Exorcist" reingezogen. Pikant: dieser bekannte Horror-Film stammt in etwa aus derselben Zeit wie das Original-Foto…
Be afraid! Be very afraid!