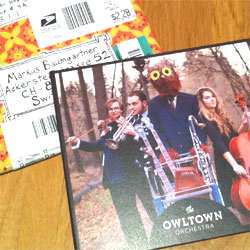 Am Mittwoch erhielt ich sympathisch verpackte Musik aus Amerika. Auf Compact Disc, geliefert mit der guten alten Post. Die Band heisst "The Owltown Orchestra".
Habe sie beim "Rumschlendern" im Internet auf einem Blog gefunden. Der Eintrag stammt von einer gewissen Jenna Carver. Sie hat für das Orchester ein Musikvideo gedreht.
Auf dem Video tanzt eine Frau mit einer Eule in einer einsamen Waldhüte in Vernonia (Oregon) einen Walzer. Begleitet von Banjo-Musik. Der Kurzfilm endet mit einem geheimnisvollen Telefongespräch.
"Mehr davon!", dachte ich und bestellte – da bei iTunes und Konsorten nicht verfügbar – die CD. Wenn ich den Sound mit wenigen Worten beschreiben müsste, würde ich sagen: "Jazz meets Folk. Curiously but relaxed".
Originell sind auch die Titel der Stücke: "Leopold Bathfire's Massacre", "Thumper of Clairvoyance" oder "The Ballad of Wozet Cleasel", um drei davon zu nennen.
Die CD ist wahrlich eine kleine und feine Perle der instrumentalen Musik. Hier Video gucken. Hier Musik bestellen.