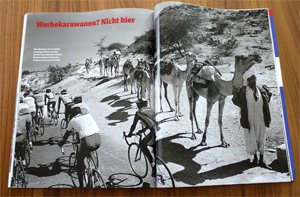 "… im Übrigen hat das Land keine Fussballnationalmannschaft mehr. Nach einem Auswärtsspiel sind alle Spieler in Kenia geblieben."
Dafür hat Eritrea – eines der ärmsten Länder der Welt – eine eigene Radtour.
Nebenstehendes Bild und das obige Zitat stammen aus dem Artikel "Tour of Eritrea" von Ines Possemeyer (Text) und Chris Keulen (Fotos), welcher in der GEO-Ausgabe April '10 zu finden ist.
Das Rennen in diesem radsportverrückten Land führt über fünf Etappen 710 Kilometer von Keren nach Asmara und hat 47 Teilnehmer aus sieben Nationen. 1946 wurde es als "Giro dell' Eritrea" gegründet und fand 2009 zum ersten Mal Platz im Kalender des internationalen Radsportverbandes.
Einige der Bergetappen sollen härter als dienigen in der Tour de France sein. Das wird zumindest in einem der Bildtitel des GEO-Artikels kühn behauptet.
Na dann sind wir gespannt, ob in den nächsten Jahren auch mal Fahrer vom afrikanischen Kontent in den grossen europäischen Rennen vorne mitmischen und gewinnen. Was heute im Laufsport schon lange gang und gäbe ist, sollte doch eigentlich auch beim Radfahren möglich sein!?
Eritrea hat diesbezüglich aber ein Problem: Nicht nur die Fussballer "verabschieden" sich bei Wettkämpfen im Ausland auf Nimmerwiedersehn, sondern eben auch Radfahrer. Wer kann es ihnen verübeln?…
Mehr zur "Tour of Eritrea" siehe im eingangs erwähnten Artikel. Prädikat: lesenwert!