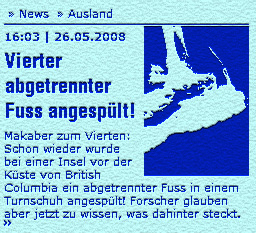 Siebzehn Folgen lang trieb der vierte Fuss sein vermeintliches Unwesen in diesem Blog.
Doch was lese ich heute? Er wurde offiziell gefunden! Häh?
Gemäss diesem Blick-Artikel soll es sich bei ihm wie auch bei den andern drei seit letzten August an die Küste von British Columbia gespülten Füsse möglicherweise um Opfer eines Flugzeugabsturzes handeln.
Das Versteckspielen in der virtuellen Welt hat also ein jähes Ende.
In Tat und Wahrheit dümpelte der vierte Fuss also die ganze Zeit irgendwo im offenen Meer herum, bis er an Land stiess.
Meine Geschichte war also erstunken und erlogen?
Nicht so vorschnell bitte! Vielleicht war das ja gar nicht der vierte Fuss, sondern bloss der fünfte von sechs, oder der neunte von zehn? Sniff, heul. Lasst mir doch bitte, bitte meine schön durchnummerierte Fortsetzungs-Geschichte!!
Not to be continued…?