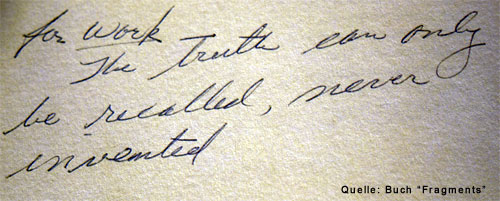 In den fünfziger Jahren hat die Schönheitsikone Marilyn Monroe folgende Notiz hinterlassen: "… The truth can only be recalled, never invented". Die Wahrheit kann nur erinnert werden, nie erfunden.
Ich bin auf dieses Zitat im Buch "Marilyn Monroe – Tapfer lieben – Ihre persönlichen Aufzeichnungen, Gedichte und Briefe " gestossen. Daraus stammt auch das obenstehende Abbild des Textes.
Leider kann ich nicht wissen, wie die Autorin das tatsächlich gemeint hat und in welchem Kontext dies zu ihrer Arbeit ("for work") steht. Aber ich glaube, Marilyn Monroe hat damit Recht.